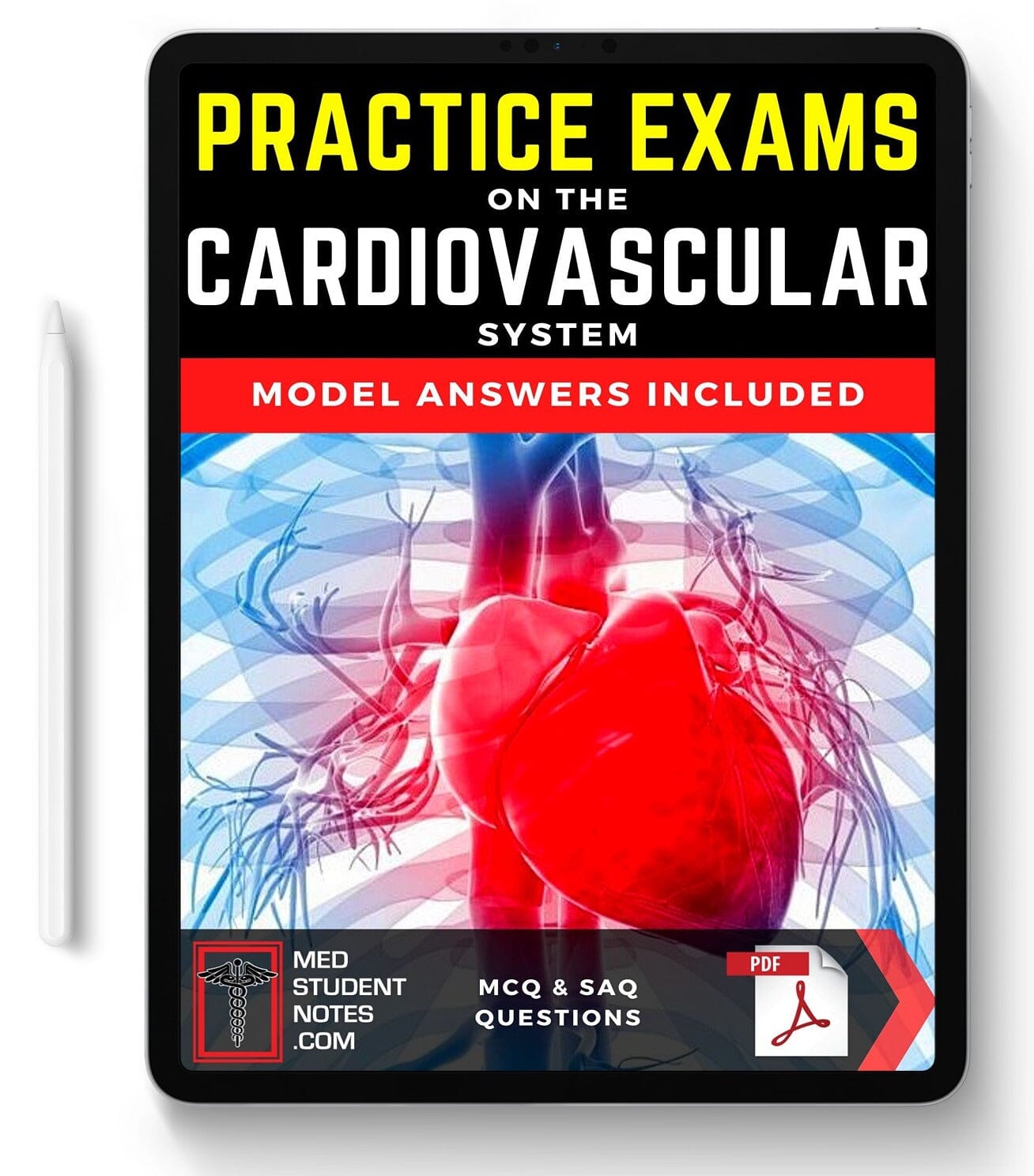 Exams: Cardiovascular
---
PRACTICE EXAMS: ON THE CARDIOVASCULAR SYSTEM
(DELIVERED INSTANTLY TO YOUR INBOX IN PDF FORMAT)
What's included: A comprehensive set of university-level multiple-choice (MCQ) and short-answer (SAQ) exam questions covering everything to do with The Cardiovascular System. All answer keys are provided directly after each quiz so that you can revise and reassess as you go, helping you learn better and improve retention.
Features:

High-Yield Questions

Detailed Model Answers Provided
Downloadable & Printable PDF documents.
Compatible with

 

OneNote, Notability & Goodnotes
Content Volume: 187 pages
Exam Topics:
ANATOMY OF THE HEART
ELECTROPHYSIOLOGY OF THE HEART
ECG PHYSIOLOGY
THE MECHANICAL EVENTS OF THE CARDIAC CYCLE
CARDIODYNAMICS
HEMODYNAMICS
ANATOMY & PHYSIOLOGY OF BLOOD VESSELS
THE FETAL CIRCULATION, FLUID MOVEMENTS ACROSS A VESSEL, OEDEMA, ANEURYSMS AND DISSECTIONS.
HYPERTENSION
PHYSIOLOGY OF SHOCK
PHYSIOLOGY OF MYOCARDIAL ISCHEMIA
PATHOLOGY OF MYOCARDIAL ISCHEMIA
WHEN ISCHEMIA BECOMES INFARCTION
CONGENITAL HEART AND GREAT VESSEL DEFECTS
ANEURYSMS AND DISSECTIONS
ARRHYTHMIAS
DRUG CLASSES FOR TREATING ARRHYTHMIAS
DYSLIPIDEMIA AND ATHEROSCLEROSIS
ACUTE CORONARY SYNDROMES
ACUTE CARDIOGENIC PULMONARY EDEMA AND HEART FAILURE.
CARDIOMYOPATHIES
DVT, PE, CARCINOID HEART DISEASE, INFECTIVE ENDOCARDITIS AND NON-INFECTIVE ENDOCARDITIS
CARDIOVASCULAR INFLAMMATION/INFECTION
PERIPHERAL VASCULAR DISEASE
VASCULITIDES
RHEUMATIC FEVER AND RHEUMATIC HEART DISEASE
VALVULAR HEART DISEASE
CLINICAL CASE 1
CLINICAL CASE 2
CLINICAL CASE 3
CLINICAL CASE 4
CLINICAL CASE 5
CLINICAL CASE 6
CLINICAL CASE 7
CLINICAL CASE 8
CLINICAL CASE 9
CLINICAL CASE 10
CLINICAL CASE 11
CLINICAL CASE 12
CLINICAL CASE 13
...OR Get 80% OFF ALL 15 PRACTICE EXAMS HERE!